Tango, to the Pointe
" This piece rises like a phoenix out of the ashes of ballet and the rubble of tango. "

-Shuman Zhang (Montreal Rampage)
Posted on June 11, 2022. Written by Shuman Zhang (Montreal Rampage)
"Every time we perform, a pointe shoe dies," say Erin Scott-Kafadar and Alexander Richardson, the artists from PointeTango. Both received their ballet education in Montreal. After two years of Covid restrictions, Scott-Kafadar and Richardson are ready to take back the stage with their performance piece "Tango, to the Pointe" at the Montreal Fringe Festival .
From pointe shoes to stilettos, this sultry duo's astonishing artistic vocabulary features authentic Argentine tango fused with ballet. "It was kind of like a game at first to be able to dance on two different shoes and see how it might work. It pushed us to create something unique and new," says Scott-Kafadar the co-founder and the principal dancer of PointeTango.
Richardson, the director, choreographer, and other principle dancer of PointeTango says that company emerged from the question: What happens when classical ballet meets Argentine Tango? Before meeting Richardson and making the choice to dive into the world of Argentine tango, Scott-Kafadar was a ballerina touring with Le Jeune Ballet du Québec and with Ballet Ouest de Montréal's production of classical ballet pieces such as "The Nutcracker."
When a classical ballerina met an Argentine tango choreographer, an unrestrained artistic eruption happened, resulting in "Tango, to the Pointe." In the piece, Richardson and Scott-Kafadar draw on their lifetime of dance experience. The show showcases Scott-Kafadar's classical ballet training and Alexander's crazy obsession with tango. In this piece, the gorgeous ballet dance skills and the strong emotion of Tango are intertwined perfectly. Their emotions are so vivid, it is as if they are bringing people back from death. And the show truly is born from the death – the death of enormous pointe shoes.
Interestingly, this performance can be interpreted from a feminist perspective. The steps of tango are traditionally male-dominated. But in this performance, the core position of female dancers in tango is transformed by Scott-Kafadar's fiery footwork. In addition, in rebellion against ballet where most lifts are dominated by men, in Tango, to the Pointe, there is one powerful lift dominated by the female dancer. Finally, although the voice-over is male, the narrative perspective is feminist. The narrator makes fun of men. It's a masterpiece against gender dichotomy in classical ballet and Argentine tango.
This piece rises like a phoenix out of the ashes of ballet and the rubble of tango. No matter how Scott-Kafadar and Alexander pirouette, leap, and bourrée, their love of dance, and for each other is at the centre.
---
---
"It's flirty. It's funny. It's excellent."

"Smoking hot"

"Wow. Just wow."

-Rachel Levine (Montreal Rampage)
Posted on June 12, 2022. Written by Rachel Levine (Montreal Rampage)
I thought of leaving a one word review: Wow. But really this piece deserves a few more. Here are some that come to mind: Go see it. Don't miss it. <3<3<3. This is a romantic dance piece with a 1920s vibe that brings together ballet and tango and the result is smoking hot. Every detail has been curated to perfection — the lights, the costumes, the hair, the music/spoken word. It's flirty. It's funny. It's excellent. The two dancers, Erin Scott-Kafadar and Alexander Richardson, are so skilled that they make even technically challenging movements seem like fun. While watching, I kept thinking of the famous line "Ginger Rogers did everything Fred Astaire did, but backwards and in heels." In this case… Scott-Kafadar does it in pointe shoes. Damn, girl, that strength, that training. But, make no mistake, Richardson is a perfect match for her. They smoulder together. Try and score a ticket if you can.
Tango, to the Pointe takes place on June 14 and 15 at the Monument National (1182 St Laurent Blvd).
---
"One showcase that really stood out for me and the entire audience was by PointeTango's production of "Tango, to the Pointe", which masterfully fused two types of dance: tango and ballet. After their two minutes, the couple who performed the dance got a loud standing ovation; it was the first time I ever saw such a reaction in my 10 years of witnessing the Fringe-For-All."

–Stuart Nulman's Grapevine
By Brian Carroll on June 15, 2022 (Apartment 613)
Last year, PointeTango Dance Company toured the Canadian Fringe circuit, receiving critical acclaim and positive audience reactions. This year PointeTango brings a new show, Tango to the Pointe, for their first Ottawa Fringe. Brian Carroll interviewed Erin Scott-Kafadar and Alexander Richardson of PointeTango about their upcoming Ottawa Fringe performances.
Apt613: Although this is PointeTango's first performance at the Ottawa Fringe, you've been on the Canadian Fringe circuit before. (Last year's) Winnipeg Fringe reaction to PointeTango was very enthusiastic. To what do you attribute that positive reaction?
Alexander Richardson: One of our specialties is our uniqueness. We're the only company in the world that can dance authentic Argentine tango while Erin is on classical pointe shoes. [Editor's note: pointe shoes are ballet shoes with a hard reinforced toe, so the dancer can balance on their tiptoes.]
What we've done is taken something very traditional, very authentic, and captured that essence. I spent the last eight years living in Buenos Aires in Argentina. We've modified [tango] and adapted a new vocabulary with some of that elegance, the speed, the lines, the dynamic qualities of ballet.
So we're able to appeal to people that want exciting explosive lifts, spins, jettées, bourrées, you name it.
But equally, on the flip side (we) do something very intimate, very traditional, showcasing the culture of Argentina with as much respect and humbleness as we can.
Erin Scott-Kafadar: I think people appreciate that, 'cause all of our choreography is our own. Our style of dance is our own as well and unique. I think people like to see something different and we're offering a different style of dance that we've created. I like to think that we have a good chemistry on stage which touches people.
As the company name implies, you draw on both ballet and tango styles of dance. What led you to this path?
ES-K: We come from classical ballet backgrounds and Alex dove into the world of tango about 20 years ago. We were a couple 10 years ago and we both danced, but we wanted to work together. So how can we work together? How can we create something new and innovative? We decided to combine our classical training, but with all the improvisation that comes from Argentine tango. We wanted to combine our two favourite dance styles to make a new dance style.
AR: The main emphasis for me to create PointeTango the Dance Company was to take the best of both worlds. Argentine tango has this incredible, intimate, passionate quality that can be lacking from the technical aspects of solo work of classical ballet. And equally, classical ballet just has these expressive lyrical arms, the legs, the feet, this exceptional technicality and quality that equally at times can be lacking from the improvised qualities of Argentine tango. When you put that quality on stage, sometimes it's not that dynamic. So we really search for where are the points where they intersect. How can we draw out the best qualities from these two worlds and blend them together with as much respect to both disciplines so that both can still shine?
When PointeTango steps out of both the tango and the ballet traditions, some of the movements appear to be dangerous. There's no safety net. How do you thrill the audience while keeping the dancers safe?
ES-K: Well, I have some bruises. I've whacked Alex in the face quite a few times.
AR: I almost have a black eye today.
ES-K: We think that his nose is crooked now,
AR: I would say we try and push ourselves to our maximum physicality and we take as much preparation as we can. But we take as many risks as we safely can.
ES-K: If we're learning a new skill that's dangerous, we'll condition our bodies. We'll train many, many hours up to a year to build up, to be able to do a trick safely so that we're consistent at it. We have good technique and we're not whacking each other in the face. We train really, really hard – about six hours a day, five days a week. It takes us about a year to create a new show. There's only two of us. We don't have understudies, so we're very conscientious to build up our skill and our physicality to be able to do these tricks.
Last year's Winnipeg Fringe was online rather than in person, so your production was filmed with musicians participating in many of the scenes. This year you're touring the Fringe circuit live. What can the audience expect from this year's new live production?
ES-K: What's unique with this show Tango to the Pointe is that it is all on pointe. Except for maybe one or two instances. Usually we do more of a combination, but this year we really wanted to showcase what PointeTango is. Which is really the combination of Argentine tango danced on pointe. So this is something new for us…
AR: …to do a whole show in that manner. A side note that people don't know is Erin has custom made ballet shoes, pointe shoes. About $140 (a pair) and it's destroyed after one show.
ES-K: So I have this case of just pointe shoes that I'm bringing on tour with me. It's gonna be interesting to go through airport security.
Do you have a show or two that you're looking forward to seeing at this year's Ottawa Fringe?
ES-K: For sure, we would like to go see Keith perform (At the Table with Keith Brown). And our good friend Keith Alessi, who's bringing his Tomatoes Tried To Kill Me But Banjos Saved My Life.
Ballet meets bordello with this often-breathtaking contemporary dance show that mashes together pristine classical dance with the passionate moves of tango.

Holly Harris (The Winnipeg Free Press)
TANGO: TO THE POINTE
PointeTango
John Hirsch Mainstage (Venue 1)
Ballet meets bordello with this often-breathtaking contemporary dance show that mashes together pristine classical dance with the passionate moves of tango.
Montreal-based company members Erin Scott-Kafadar and Alexander Richardson dazzle with an imaginative one-hour program teeming with wit (also choreographed by Richardson), including plenty of pirouettes, tango kicks and flicks, punctuated by gravity-defying lifts that explode like fireworks.
An eclectic soundtrack ranges from spoken narration — the duet accompanied by Charles Bukowski's grungy ode to "style" is dynamite — to smoky bandoneon music right out of Buenos Aires, where the show was birthed during pandemic lockdown. A highlight is Richardson's solo performed with a pair of pool cues rife with sub-text. Scott-Kafadar has toes of steel, delivering astonishing pointe work; however, the show ironically is most potent when the artists perform bare-footed, their palpable physical and emotional connection now at its most achingly vulnerable, intimate best. 4.5/5
— Holly Harris
---
An amazing and entertaining display of terrific dance by a pair of absolute pros

Murray Hunter (The Jenny Revue)
Tango, to the Pointe
PointeTango—John Hirsch Mainstage
What an amazing and entertaining display of terrific dance by a pair of absolute pros. Erin Scott-Kafadar and Alexander Richardson beautifully perform around a dozen different segments to various musical pieces and a couple of recorded spoken word background audio.
Each piece conveys a different emotion with the music and dancing. They use some vertical light bars on the stage which light up in different colours to help set the scenes. The amazing thing about the dancing is Erin does it in ballet pointe shoes and is dancing en pointe (on tip toe) throughout, hence their Title and Company name.
The finale was set to an acoustic version of Metallica's "Nothing Else Matters" (it took me a while to identify it) and was done barefoot. The sheer physicality was absolutely amazing with spectacular lifts, spins and combined movements.
The standing ovation was very much deserved. I highly recommend it.
-Murray Hunter
---
Quand le ballet et le tango se rencontrent

Monique Polloni
Réalisatrice/Producer
Radio-Canada Colombie-Britannique et Yukon
Culture et confiture Publié le 16 juillet 2022
Après deux ans de pause forcée, le duo Alexander Richardson et Erin Scott-Kafadar retrouvent le public des festivals Fringe dans l'Ouest canadien
Créée en 2016, la compagnie de danse Pointe Tango est née de la question : « Que se passe-t-il lorsque le ballet classique rencontre le tango argentin? »Pour y répondre, Alexander Richardson, danseur et chorégraphe né au Canada, s'est installé à Buenos Aires en 2010, pour faire de la recherche et vivre la vie du tango. Après avoir enseigné et joué partout dans le monde dans des festivals de tango, à la télévision et au cinéma, Alexander a créé PointeTango avec sa partenaire Erin Scott-Kafadar. Leur mandat est de créer et de faire connaître des œuvres innovantes, mettant en valeur l'authenticité du tango improvisé et l'élégance du ballet classique.
Erin et Alexander se sont donné le défi de développer un nouveau vocabulaire de danse. La technique PointeTango respecte les codes et la connexion du tango argentin « abrazo » (étreinte) tout en recherchant de nouvelles solutions et des opportunités aux défis rencontrés lors du passage des talons aux pointes. PointeTango est la seule compagnie au monde à improviser le tango argentin sur pointe. Leur travail a été joué sur des bateaux de croisière à l'échelle internationale, présentée dans des projets de films de danse et ils se produisent régulièrement dans des spectacles et des milongas à Buenos Aires et au Canada.
Alexander Richardson et Erin Scott-Kafadar seront en prestation aux festivals Fringe de Winnipeg et de Vancouver. Ils participeront également au World Accordion And Tango Festival à Victoria, en novembre.
Laurie Anne Gyde on July 19, 2022 at 5:11 pm said: I was glad that another 200 people woke up and decided to attend this fantastic play, mixed with tango and ballet, that was extraordinary in its choreography. The movement of their bodies, intertwined, the subtle acrobatics.. Beautiful..5/5
sethburn on July 18, 2022 at 11:36 am said: Phenomenal. Dance shows can impress with creativity, athleticism, technical mastery, and pure aesthetics. This had it all. Currently my #1 from the 2022 Winnipeg Fringe. A must see if you enjoy dance theater.
Alana Penner on July 16, 2022 at 12:38 pm said: Phenomenal! A brilliant demonstration of skill and elegance. Highly skilled and effortless
Yolanda hogeveen on July 15, 2022 at 7:37 pm said: This talented pair should be on a professional stage – amazing athletic, emotional performance
Murray G on July 15, 2022 at 11:01 am said: This is a stunning performance by two gifted dancers, blending tango and ballet in unexpected ways. Performed with style, wit, and SO much talent. This is a must see!
BrianMCarroll on July 8, 2022 at 8:25 am said: The (Apt613.ca) editors wrote this headline: "Let's get (Tango) to the point(e)—you won't want to miss this dance show"Pick seats in the John Hirsch Mainstage where you can see their feet.
Tango, to the Pointe at the Halifax Fringe
"This show was a late night show and as a result the audience was small but they didn't let that decrease their energy for even a second. The partnership, athleticism, artistry and strength on that stage were unreal. Each song opened up another adventure and a new style of movement. And the cherry on top of the cake was having moments to hear the performers breathe and connect during key moments. It was truly beautiful.
My pick from Day 1 is Tango, to the Pointe! Do yourself a favor and go see the show."
-April Hubbard (Chair of the Halifax Fringe)
Du tango sur pointe au festival Fringe de Vancouver
La journaliste culturelle Lyne Barnabé nous parle notamment de Tango, to the Pointe, un spectacle de tango sur pointe de la troupe montréalaise PointeTango.
---
SEPTEMBER 12, 2022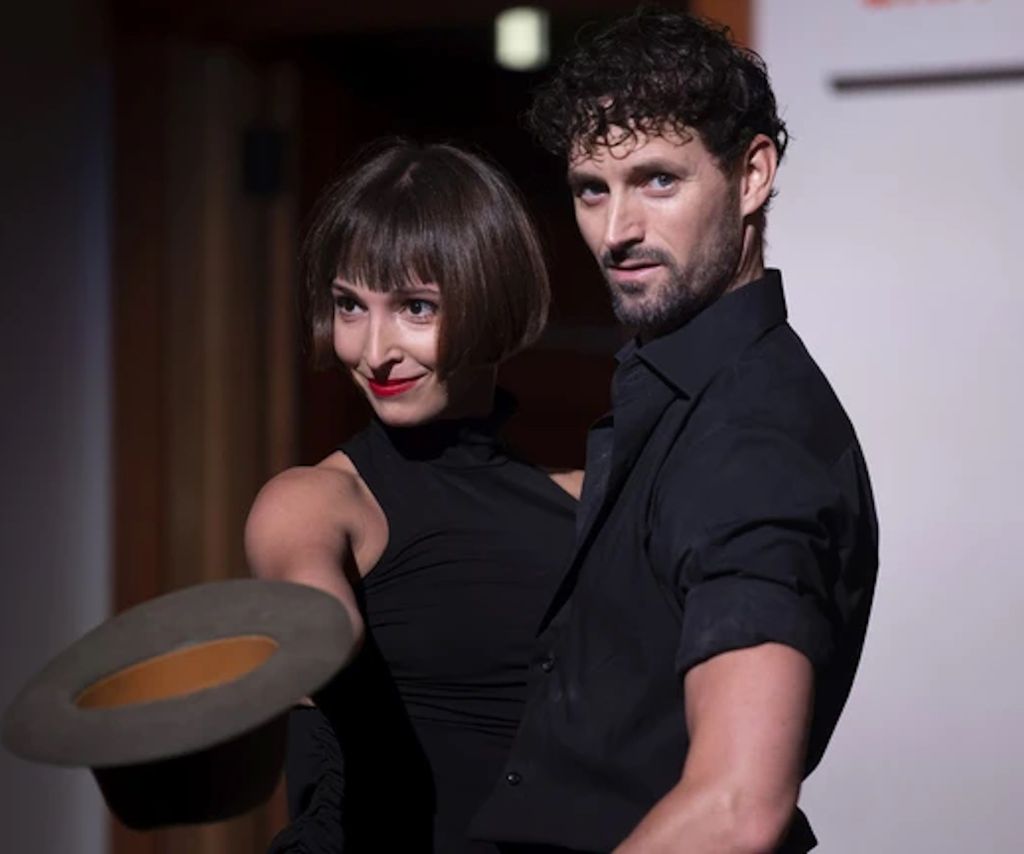 Meet genuine professional dancers from Montreal Erin and Alexander to share their thoughts about this proud production Tango, to the Pointe. In our latest blog, we will find out all about the marriage of Tango and Ballet.
Briefly introduce yourself/your company…
PointeTango emerged from the question: 'What happens when ballet meets Argentine tango?' Having trained and worked in both styles extensively, professional dancers Erin Scott-Kafadar and Alexander Richardson challenged themselves to develop a new hybrid dance vocabulary of "pointetango".

PointeTango has toured their two original highly acclaimed shows: Para Dos(2018) and Into the Tango(2019) across Canada to sold-out theatres earning them various festival awards. During the pandemic, PointeTango turned to film to continue sharing their art and produced their award-winning feature film Tango in the Dark which was streamed at international theatre festivals.

PointeTango is currently touring their new show Tango, to the Pointe across Canada to theatres in Montreal, Ottawa, Winnipeg, Regina, Halifax, Vancouver, Victoria and London (ON). PointeTango was awarded a residency at the National Ballet of Canada to work on the creation of Tango, to the Pointe through the support of the NBC's Open Space Programme.
What is it that makes your work/company unique
PointeTango is a one-of-a-kind dance company combining the passion of Argentine tango with the precision of classical ballet. PointeTango was co-founded in 2016 by choreographers and dancers Erin Scott-Kafadar and artistic director, Alexander Richardson. Our mandate is to create and tour new innovative works showcasing the authenticity of improvised tango and the elegance of classical ballet.
PointeTango is the only dance company in the world to dance authentic, improvised Argentine tango on pointe shoes. We decided to really showcase this in our show "Tango, to the Pointe" by having Erin dance the entire hour-long show on pointe, with a twist towards the end of the performance where she dances with Alex wearing one pointe shoe and one stiletto!
What kind of experience do you hope audiences will have during your show?
We hope audiences will feel a wide range of emotions and be touched by the authenticity of our performance. We are offering audiences to experience the nostalgia of traditional Argentine tango music, the elegant and soft fluidity of ballet, the passion of the tango and the extraordinary physicality of our acrobatic lifts.
Without spoilers, tell us what you think audiences will remember most about your show?
This is a new work showcasing PointeTango's unique fusion between Argentine tango and classical ballet. As the only company in the world to dance authentic, improvised Argentine tango on pointe shoes, we wanted to create a show that pushes the boundaries of dance by exploring the possibilities and challenges that arise while transitioning from stilettos to pointe shoes. This dynamic show not only showcases the technical prowess of PointeTango dancers Erin and Alexander, but also offers a window into the intricacies of touch as they reevaluate the meaning of connection during a pandemic when human closeness has been restricted.
What do you think is the best thing about the Fringe?
Fringe is a place for us to have complete artistic freedom, try new tricks and take risks on stage. These festivals offer an opportunity for us to produce a new work at a low cost and help us build our company name and experience for future projects. Because we have had successful runs, it also means that we are able to keep doing what we love.
Furthermore, the fringe festival circuit gives us an opportunity to connect with our culture and communities in large and remote cities all across Canada. Touring our show has been a fantastic way to discover Canada, make new connections and present our art to large and diverse audiences.
What is the most important thing you hope audiences will take away from your show?
We encourage each audience member to find something different to take home with them. The beauty of dance is that it is open to interpretation and every individual will experience our show differently. We dance with our heart and soul and hope that audiences will be touched and feel the wide range of emotions that we express through our dance.
---
"Tango to the Pointe" is rich and sensual and must not be missed!"

– Prachi Kamble (The Vancouver Arts Review)
Tango to the Pointe
Alexander Richardson and Erin Scott-Kafadar from PointeTango Dance Company transported us to the streets of Buenos Aires with "Tango to the Pointe." The company fuses Argentine tango with classical ballet and creates an absolutely breathtaking new genre. Scott-Kafadar is en pointe for the majority of this performance, and her strength and athleticism as a dancer are other-worldly. The duo pack this 60 minute show with at least ten different choreographed numbers, each with a different visual background, a different genre of music, a different tempo of music and a different sentiment. We see tango that is smouldering and sexy, tango that is full of yearning and sadness, tango that is playful and silly, and tango that is formal and serious. My favourite was a piece the dancers performed to Charles Bukowski's live reading of "Style." There was also a piece set to a Spanish guitar solo of a Leonard Cohen song.
"Tango to the Pointe" showcases the beauty of tango and the diversity within the genre. Richardson and Scott-Kafadar are beautiful people so the pictures they create on stage are gorgeous. Richardson's strength and deftness allows him to give Scott-Kafadar's elegance and showmanship a platform to shine, as is usually the case in tango couples. When she is on stage, Scott-Kafadar arrests your attention, whether it is in a form fitting little black dress, a gold sequined cocktail midi or a satin red gown. Towards the end she performs a piece with one foot in a stiletto and the other in a pointe shoe. The result is unlike anything you've ever seen.
"Tango to the Pointe" is rich and sensual and must not be missed!
– Prachi Kamble
---
Watching Tango, to the Pointe is like witnessing an art film come to life.

 A breathtakingly beautiful celebration of art.  

The show is completely captivating from start to finish, and emits the sultriness of tango (you can feel the heat from the stage), while glowing with the ethereal grace of ballet.

-Vince Kanasoot
September 18, 2022
By Vince Kanasoot
Erin Scott-Kafadar and Alexander Richardson in Tango, to the Pointe. Photo credit: Mark Ruddick
"Style is the answer to everything," poet Charles Bukowski once wrote in his poem Style, which included the line, "To do a dangerous thing with style is what I call art." And by that definition Tango, to the Pointe, presented by PointeTango is the epitome of art. I recently had the pleasure of watching dancers Erin Scott-Kafadar and Alexander Richardson perform their work at the 2022 Vancouver Fringe Festival. Tango, to the Pointe is not only an impressive fusion of Argentine tango and classical ballet, but also a breathtakingly beautiful celebration of art.
Scott-Kafadar and Richardson are athletes and artists of the highest order, displaying impressive and visually stunning dance, including some exciting lifts that see Scott-Kafadar soar high above the stage. The show is completely captivating from start to finish, and emits the sultriness of tango (you can feel the heat from the stage), while glowing with the ethereal grace of ballet. Scott-Kafadar and Richardson's chemistry is off the charts, and throughout the show they take us through the emotional dynamics of an evolving relationship.
Scott-Kafadar dances en pointe throughout the show, which is impressive for a number of reasons. First of all, dancing en pointe is extremely difficult, and she does so much of it throughout the hour-long show. Secondly, as the female partner in tango is traditionally in heels, the pair have had to adjust their choreography and technique. And adjusting tango for pointe shoes is only part of the melding between the two dance styles.
Whereas ballet is done with turned out legs and feet, much of tango is done in parallel. Scott-Kafadar and Richardson have masterfully maintained the authenticity and technique of tango, with superb form in everything from their holds and patterns, to quick swivels, sharp boleos and leg flicks, to sensually sweeping barridas. All the while, Scott-Kafadar goes up en pointe at every opportunity, and finds many moments to turn out and infuse classical ballet moves, impressing us with her exquisite lines and extension.
And speaking of lines and extension, Scott-Kafadar's are among the best in the business, with extraordinary flexibility, and stunning arabesques, penchés, battements, and jetés. She's ethereal in every way, even in how she does set changes; for example, going en pointe when she's moving the lights. She also demonstrates excellent technique in her pointe work. It's hard not to marvel at her footwork whether she's dancing with Richardson or dancing solo. There's a scene where she dances alone onstage with a ballet barre, and I could have watched her doing échappés all day. 
Richardson is an equally strong dancer, and colours his first-rate tango technique with impressive dynamics, emotions, and musicality. Both dancers have a wonderful sense of humour, which they cheekily infuse into parts of the show. As for the partnering, Scott-Kafadar and Richardson's work is incredible. There's too many partnering elements to discuss, so beyond gushing at the high-flying lifts, I will only highlight two personal favourites: The assisted pirouettes that the pair do, with Scott-Kafadar doing multiple pirouettes at a supercharged speed before stopping on a dime; and a moment in the show when Scott-Kafadar reinforces how in partnering, both dancers are equally strong, by lifting Richardson.
Tango, to the Pointe is also visually stunning, and it far surpassed my expectations, given how simple the setup appeared to be from the start. The only set pieces are light sticks that the dancers move into different formations throughout the show. But the combination of the formation changes and the colour and light pattern variations is surprisingly effective.
Throughout the show, there are also projections on a screen at the back of the stage. The art stills and videos on the screen are sophisticated and gorgeous. From a video of Richardson playing the piano, to European street scenes, to a gramophone, the visuals go with the mood of each piece and help set the vibe. Add in the lighting and costumes, and of course the exceptional dancing – and watching Tango, to the Pointe is like witnessing an art film come to life. 
One of the highlights of the show is the number "Style", where Scott-Kafadar and Richardson dance to Bukowski reading his poem. In this steamy number, where Scott-Kafadar wears a sexy, black costume that reminded me of Bob Fosse's Chicago, and Richardson wears a fitted white tank top that he later sheds, the pair exude sass while pulling off moves that are both athletically and aesthetically brilliant. And if all that isn't impressive enough, Scott-Kafadar dances with a pointe shoe on one foot, and heels on the other! And of course, both shoes are black. Everything about this number is the definition of "style".
As I mentioned earlier, Tango, to the Pointe takes us through the journey of a couple's relationship, and Scott-Kafadar and Richardson are superb in evoking the emotional complexities that happen in relationships. At the end, both dancers are barefoot and perform a contemporary-flavoured piece that signifies where they've come to in their relationship. The partners show each other they are grounded and mature, and ready to be emotionally raw, exposed, honest, and vulnerable with each other. It's an exquisite finish to a remarkable work of art.
Tango, to the Pointe, presented by PointeTango, was performed as part of the 2022 Vancouver Fringe Festival that ran from September 8-18. Visit PointeTango's website for future performances and more information on the company.